Dear "Diary" – Reviews Are Coming In!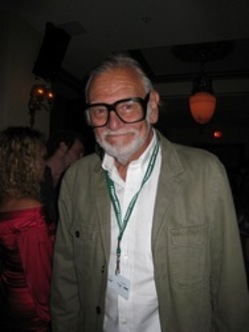 George A. Romero's Diary of the Dead premiered to an overly enthusiastic crowd at the Toronto International Film Festival. With several attendees dressed in zombie attire, the return of Romero to his independent roots was easily the most anticipated screening of this year's Midnight Madness lineup.
Yes, it seems the master of all things dead has done it once again and received a standing ovation.
Here are excerpts from reviews posted online:
Twitch: It's a fun little adventure (will it become a zombie classic in the vein of the original trilogy, I think not, but time will tell) that aims to entertain as much as anything else.
Horror Movies.ca: If you want fast cuts and fast action go play a videogame. If you're ready for a first hand account of the zombie crisis unfolding in a realistic manner then you will find a film that is funny, intelligent and truly terrifying. Thank you Mr. Romero for helping us "Stay Scared"!
Ain't It Cool News: "George A. Romero's Diary of the Dead" was friggin awesome! Wayyyyyyyy better than "Land of the Dead" and totally comparable to his original trilogy. When this one hits theaters GO SEE IT!!! Don't download it, don't wait for DVD, get yer ass in the theaters and watch it.
So far, the only dissenter comes from Slash Film: "George A Romero's Diary of the Dead is a concept with out substance, an idea without a clue… The flick features some fun creative gore-infused violence, but not much more."
We're still waiting for the trades (Variety and The Hollywood Reporter) to chime in, but for now, it's looking like Romero has returned in triumph.
Read More