David Cronenberg's Sci-Fi Roots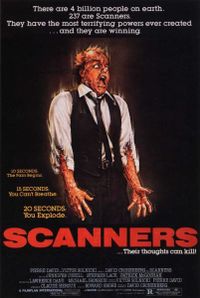 David Cronenberg spent much of his early career directing sci-fi films, many of which have gone on to become cult classics. Cronenberg's unconventional style translates to movies that have an unsettling feeling about them, like the feeling you get when you watch Hayden Christensen act.
Let's look at 3 of his well-regarded movies, all made during the 80's.
Scanners (1981) deals with a group of telepaths seeking world domination. A worthwhile plot, to be sure, but the film is perhaps best known for one scene where sci-fi mainstay Michael Ironside literally causes someone to lose his head. As an example of sci-fi movie Karma, Ironside himself would later go on to lose his arms opposite Ah-nuld in Total Recall and be ripped apart by giant, alien bugs in Starship Troopers. What comes around goes around, I guess.
In Videodrome (1983), James Woods is the owner of a struggling TV station who is looking for new material to air. He stumbles across Videodrome, underground hallucination-inducing broadcasts beamed directly into your brain. I haven't seen this one, but I can still recall the creepy image of the guy stuffing his face into the television set. And you've got to give points to anything that has the cajones to cast Blondie across from James Wood.
In Cronenberg's remake of The Fly (1986), Jeff Goldblum plays a scientist whose DNA is merged with that of a fly in a fumbled experiment intended to create a matter transporter. Cronenberg's version has more graphic scenes than the 1958 version starring Vincent Price: some acid vomit and an arm-wrestling match gone awry, to name two examples. But the older classic gets longevity points for the haunting, still-can't-get-it-out-of-my-head voice from the spider web scene. [Shiver]
Cronenberg's sci-fi roots [Houston Chronicle]
Read More