David Cronenberg Makes Violent "Promises"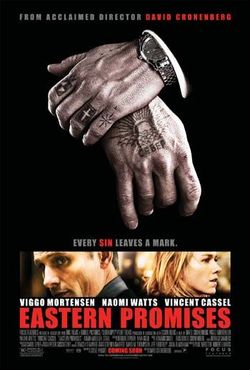 Although he hasn't made a horror film in a long, long time, a new film from David Cronenberg is always worth the attention of genre fans, and his latest, Eastern Promises (which opens Friday in NYC and L.A.) may not satisfy their need for scares, but when it comes to blood and violence (and quality filmmaking), it really delivers.
Extending on the themes of his previous film, A History of Violence, Eastern Promises tell the story of a London nurse (Naomi Watts) who takes in a newborn when the mother, a drug-addicted teenage Russian prostitute, dies during childbirth. The mother's diary leads her to the London's Russian mafia and a mysterious "driver" and foot soldier (Violence star Viggo Mortensen) who knows more than he lets on. As with all Cronenberg films, Eastern Promises is an extremely intelligent and complex story, and like History of Violence, it deals with the matters of violence and family (do we have violence in our blood or is it a choice?) in a most Cronenbergian fashion.
But there's also no doubt that Promises is one of Cronenberg's bloodiest films in a long time, with some incredibly brutal stuff that even the most jaded viewers will flinch at. A steam room brawl between Mortensen and two assailants is already becoming a classic scene (the ladies will be pleased to know Mortensen performs the scene au natural) and it brings to mind the classic murder scene from Hitchcock's Torn Curtain in its brutality. As with all Cronenberg films, the performances are excellent, with Mortensen giving his finest performance to date as the Russian mobster. Eastern Promises may not scare you, but it's certainly a movie genre fans will dig and is highly recommended all the same.
Read More