Dark Horse Comics' War of the Worlds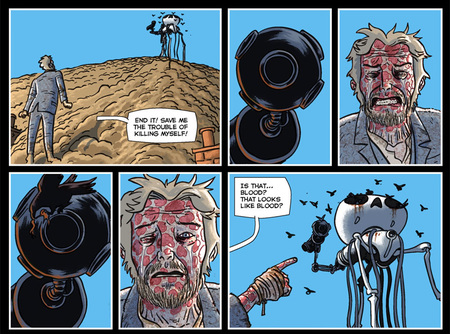 Dark Horse comics has been doing some very cool things with the Internet lately, but I'm blown away by their latest endeavor: a weekly, serialized comic strip of War of the Worlds. And it's great.
Hollywood never did get Wells' story of Martian Invasion right for me. The story requires an Edwardian setting: lumbering, squid-like Tripods rampaging through turn-of-the-century London, piercing fleeing survivors with their tentacles and sucking the blood from their crumbling corpses. Instead, Hollywood has let me down by updating it. It's like George Pal and Steven Spielberg spit in my eye: "Duh, we can't set it in the past, because that what didn't happen!"
If you can't scrounge the time together to read the book, slack off work this morning and read this: it's easily one of the best adaptations of the subject matter I've ever seen.
War of the Worlds eComic [Dark Horse]
Read More