Dark Horse Comics Presents Goes Online And Free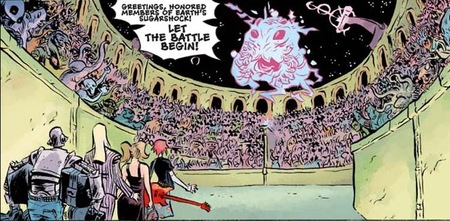 As a doughy pubescent in the dorky, foul-smelling limbo of minimum wage toil at the comic book shop, one of my delights was Dark Horse's anthology series Dark Horse Comics Presents. An cheap print black-and-white omnibus (at the time) of untested "pilot" series, Dark Horse Comics Presents was the comic that gave birth to the excellent Dark Horse Aliens comics, or Mike Mignola's supernatural Nazi hunter Hellboy, and a wealth of other incredible franchises out of which Dark Horse would eventually wedge themselves a place in a crowded, superhero-saturated market.
I haven't really kept up with Dark Horse Comics Presents lately, and I guess it's been long defunct. But Dark Horse has just brought it back in a really clever and innovative way: as an online digest of new, untested comics, specifically marketed through MySpace.
I just love it. It's really difficult for new comics artists and creators to get some face-time in a crowded field, and this is the perfect way to create buzz: through an extensive user-driven networking site. And there's already a sci-fi serial going on, called Sugar Shock, written by none other than Firefly's Joss Whedon. Check it out: at the very least, free comics a step above in quality the usual web comic LOLCat crap.
Dark Horse Presents [MySpace, via SF Signal
Read More