Connie Britton Chilled by The Last Winter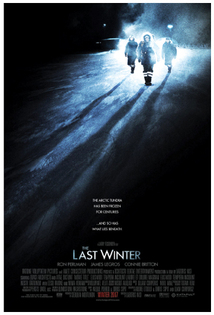 Connie Britton, one of the stars of The Last Winter, the just-released Larry Fessenden film, was
interviewed on the radio program "Fair Game" last night. Britton played Sharon Gaines in the film Friday Night Lights (she appears in the
television series as well). Her first
film was indie fave The Brothers McMullen.
Host Faith Salie called The
Last Winter "The Shining for
environmentalists" (heeeeere's global warming!) and Britton
concurred: "That's a great
description…I've been calling it an environmental ghost story."
Friday Night Lights
notwithstanding, Britton said she was not a football fan, and furthermore, she
also wasn't "a big horror fan per se, but this movie is so interesting to
me, and it was such a passion project for Larry…it's really a commentary on what
we're doing to our earth and just suppose the earth really…came back and
decided to have a little vengeance!"
But she noted that although recently seeing the final cut of The Last Winter "really creeped me out," it isn't truly a horror
film, anyway, and it has much to offer an audience beyond the considerable
scares. Shot in Iceland, "the
photography in that movie is some of the most beautiful photography I've seen
anywhere. It is just breathtaking, those
Icelandic landscapes."
So, go for the thrills, stay for the vistas.
Read More