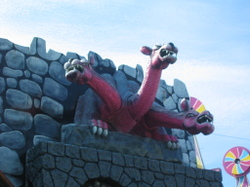 Yesterday was the last day of The Season at Astroland in Coney Island New York. The pic to the left is of the dread Carney Cerberus what guards the gate to the infamous Dante's Inferno ride.
Why bring up Coney Island? Well, it's sort of an excitingly seedy locale with a lot of history. Film-wise it's inextricably linked with The Warriors, which is not a horror movie, of course (though the Baseball Furies are super scary). It's also the location for some crushing scenes in the monster movie The Beast From 20,000 Fathoms which, by the way, strong rumor has it is the source material for the horror project known as Cloverfield.
If you've been there and thought it would make a good fright flick locale, tell us about it. You can also send us pics (of anything, really) to our monsterfestpics@gmail.com address, and we'll post about them. We're just that way. There's another pic of the Dante's Inferno ride facade after the leap.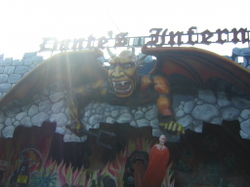 I totally took both of these pictures and emailed them to myself!
Read More