Catholic Church Labels Jesus, Doctor Who Timelords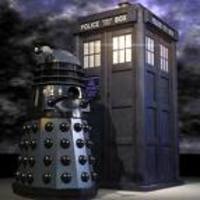 The King of Kings, The Catholic Church and Doctor Who have exactly what in common? A Cardiff priest with a smack of madness to him.
His name is Father Ben Andrews, who preaches at St. Paul's Church in Cardiff. The parist priest is so obsessed with Doctor Who that he is looking at using the Time Lord as an apostle for Jesus himself in a Doctor Who themed youth outreach night.
"We will be looking at the idea of Jesus as a Lord of time and showing who Jesus was and the different images of him throughout time," says Father Andrews.
And you know what? All I can do is applaud that. I'm sure I'm not the only one who thinks the idea of Jesus as an extra-terrestrial Time Lord, swooping through the aeons and the galaxies in his cross-shaped TARDIS as he battles Daleks just sounds way more frickin' awesome than the Catholic dogma I grew up with.
Father Andrews is still thinking of ideas for Whoifying services. My suggestion: blue police box confessionals.
Dr. Who Fans Will Flock To His Church [icWales]
Read More