Cameron Diaz' New Horror Movie To Start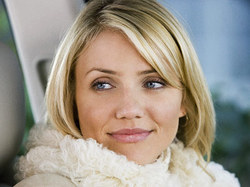 Cameron Diaz (left in The Holiday) is set to star in Richard Kelly's The Box when it starts shooting in Virginia and Massachusetts on November 17th. Kelly, best known for the cult hit Donnie Darko, is riffing on Richard Matheson's "Button, Button" story. It's actually been done before – as a Twilight Zone episode!
Matheson, if you don't know, is one of Stephen King's heroes, a man who's called by King "the man who's influenced me most as a writer." Says IMDB of The Box, "A small wooden box arrives on the doorstep of a troubled married
couple, who open it and become instantly wealthy. Little do they
realize that opening the box also kills someone they do not know …" Mattheson penned The Incredible Shrinking Man, I Am Legend and Hell House, all of which have been turned into movies. This one harkens back to the old Pandora's Box myth.
Big question: Can Kelly scare us? My guess: It'll be Matheson done right: heck, yeh!
Read More