BSG Mid-Season Hiatus Not Set In Stone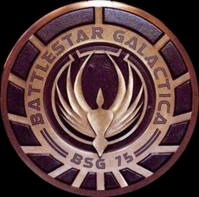 Last weekend, at DragonCon, some of the stars of Battlestar Galactica direly hinted that the fourth season might be split in two… effectively meaning a mid-season hiatus for an astonishing ten months.
It was just a rumor, but it indicated a really callous move by the SciFi Channel. With a writer's strike looming large and no shows nearly as successful as BSG, they were threatening to take the show's fan base ransom to artificially draw out one year's worth of ratings into two.
That still may happen, but luckily it doesn't seem set in stone. While it's clear that some hiatus is going to happen mid-season, it may be a far more sensible one month delay… something more in line with what we expect from most shows.
"We were told that SciFi was thinking about splitting the final season, but we do not know how long the gap in that split will be," producer David Weddle told SyFy Portal. "As far as I know, SciFi has not decided yet. The SciFi Channel executives are the only ones who will be able to answer that question, once they've arrived at a decision."
Let's hope that's the right decision.
'Battlestar Galactica' Break May Not Be So Long [SyFy Portal]
Read More