Bruce Campbell Retrospective!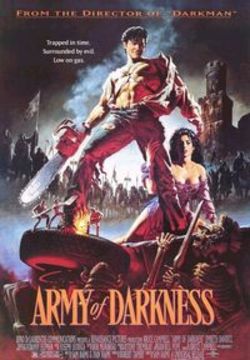 If you're up at midnight Saturday (Eastern Time), you can check out Bruce Campbell in Army of Darkness right here on AMC. The tongue-in-cheek movie, which also stars Bridget Fonda, is the sequel to Evil Dead 2, and takes place in medieval times where Campbell is both enemy and savior. (Those skeletons are pretty dang creepy, too. And they just keep coming.) For all you Campbell fans, here are some classic clips.
Army of Darkness — You have to love the oh-so-gross skeletal demon who screams "You shall die!" in this trailer.
Waxwork II: Lost In Time — Gee, how can Campbell even talk with his chest bones exposed like that?

From Dusk Til Dawn II — From YouTube, I snagged Bruce Campbell's cameo for you. Elevators are eerie things.
Evil Dead II — The chainsaw returns in the original trailer. "We prayed it would never happen again."
Evil Dead — "It was the woods themselves. They're alive, Ash!" Go get 'em, Bruce!
Read More