Box Office Numbers of the Beast – Dragon Wars Soars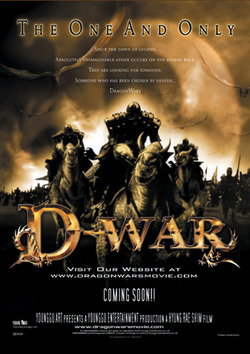 A day delay for our Horror box office numbers column, since we were so stunned at the high numbers the dragons raked in over the weekend. A cool $5 million for Smaug and his pals. Good enough to make the top five. Check out the chart here. Good old Dragon Wars.
Halloween is right on it's tail (safer than being near the fire breathing part) with another four million to its already respectable total. That franchise is the gift that keeps on giving, and if I'm reading the chart correctly, it's still in the most theaters in America. Like, by a large margin. Everybody wants a piece of candy.
One more note on D-War, it's super-cool to see a foreign monster flick capture the nation's imagination. I don't think growing up there were too many exciting exports playing before midnight outside of Olde Times Square anywhere. We live in good times.
So…horror is strong, and as the weather gets colder the theaters get darker. Resident Evil: Extinction opens this weekend, and I can't wait to see the numbers. One of those birds with the "infected flesh" eyes is a cousin of mine, and I'll be rooting for him. Caw!
Read More