Bill Pullman's Theatrical Space Odyssey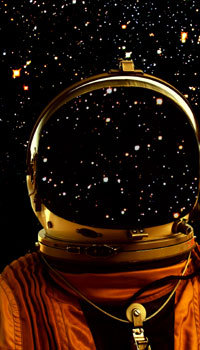 Actor Bill Pullman is known to science fiction fans. He has starred in both 1987's Spaceballs (as the rugged Han Solo/Luke Skywalker hybrid hero named Lone Starr) and 1997's Independence Day (as the President who's not afraid to roll up his sleeves and get down and dirty kicking some alien butt). More recently, Pullman has turned his abilities to the stage: he has created and directs a theatrical docu-drama called Expedition 6, based on the real-life happenings of NASA's Expedition Six mission.
As per the venue's description, Expedition 6 "explores the personal and political life-and-death crisis of two American astronauts and a Russian cosmonaut stranded in space after the Columbia Shuttle disaster." In an interview, Pullman says that he used NASA's website and astronaut accounts as a reference source to gather factual data for the event. However, he stresses that this is not meant to be a historical document. Instead, the focus is on the story of the characters.
Pullman's production uses eight actors and incorporates much movement (via low-flying trapezes) to re-create the low-orbit environment of the Expedition Six crew. He was inspired by the events of the Columbia shuttle disaster to tell the lesser-known story of some of the world's greatest heroes.
The show is appearing from September 8th through October 7th at the Magic Theater in San Francisco.
Actor Bill Pullman Stages Theatrical Space Odyssey [Space.com]
Read More