Benicio Del Toro As The Wolf Man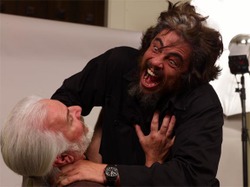 Harry Knowles over at Ain't It Cool recently posted this pic of Benicio Del Toro getting ready for Mark Romanek's The Wolf Man, which drops in 2008. The movie also stars Anthony Hopkins. I love this shot: it reminds me of all the over-the-top pictures they used to run in the early issues of the magazine, Famous Monsters Of Filmland.
What do you think? Can Benicio pull it of as a werewolf? Knowles loves the idea, but he and Benicio have been pals for years.
Read More