Be Very Frightened: EA's Dead Space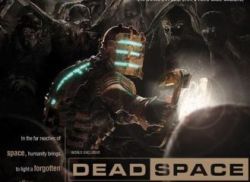 When a huge multi-billion dollar corporation like Electronic Arts announces a brand new horror video game franchise, everyone takes notice. That's why Dead Space, the upcoming sci-fi scare-athon is on the cover of gaming's most respected magazine, Game Informer, this month – even though the game won't see the light of day until late 2008 (or even later: release dates drop all the time in the world of games).
Teases Game Informer, "In the far reaches of space, humanity brings to light a forgotten alien scourge. Can one man cut through the darkness?" The article continues, "Dubbed the Necromorphs, these creatures infect and take over the bodies of dead humans, twisting their remains into new and horrific forms. These bloodthirsty beings have decimated the spaceship, and lie in wait for our hero to make the smallest misstep." Sounds terrifying. But Electronic Arts will have a steep hill to climb to beat this year's completely creepy BioShock. can they do it? I'll keep you updated.
Read More