Battlestar Galactica, Flash Gordon… And Now Buck Rogers?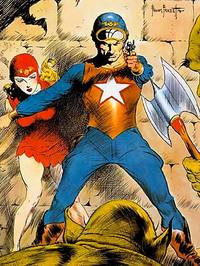 It has always been rather enraging to me that Buck Gordon is associated with its campy, dare-I-say crappy early 80's televised incarnation nore than the comic strip, just as Flash Gordon is associated more with the Dino De Laurentiis version than the excellent serials and comics of the 30's and 40's.
I don't want to sound like I don't appreciate the NBC series in its own way. The weirdo midget robots voiced by Mel Blanc, the form-fitting jumpsuits, the evil Draconians: the whole show was realistically bad, but nostalgically great. I even love how in the final season of the show, the producers decided to just rip-off Battlestar Galactica wholesale, sending Buck and his friends on a mission to track down the lost colonies of humanity across the universe while ruthlessly pursued by the Draconians.
So I'm filled with trepidation at the news that television networks are eyeing Buck Rogers for a Battlestar Galactica style update. In other words, make it more realistic and darker. They could take a worse approach to an update… for the proper, retch-inducing example, see Flash Gordon. But I don't understand why Hollywood can't see the merit to a straight interpretation of the material: a colorful future of ray guns and rocket packs.
Buck Rogers in the 21st Century? [Slice of SciFi]
Read More