Bangkok's Queen of Junkyard Sci-Fi Sculpture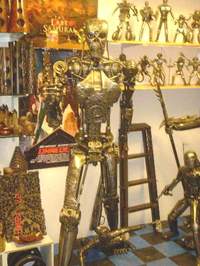 For unknown reasons, there's a strange confluence of sci-fi metal artisans liberally splattered through the third world. People who hauled themselves out of poverty and the killing fields to triumphantly realize their dream of constructing the world's best life-sized Robocop out of a discarded refrigerator.
For example, last week we pointed out these excellent Xenomorph and Stormtrooper sculptures in Dubai. This week, we've got another artisan, combing Thailand's junkyards for raw materials to realize her incredible mechanical sculptures.
Since 2002, Yuni has been operating her business in Bangkok, constructing bizarre and cyborg-like versions of Robocop, Jango Fett, Spiderman Yoda and even the Anubis-like aliens from Stargate.
I've been to Thailand and Yuni's no freak exception: in the chaos of Bangkok's side alleys, there's a surprising amount of treasure troves of weird sci-fi junk for the tourist willing to push resolutely past the transsexual brothels.
Yuni Modal [Official Site]
Read More