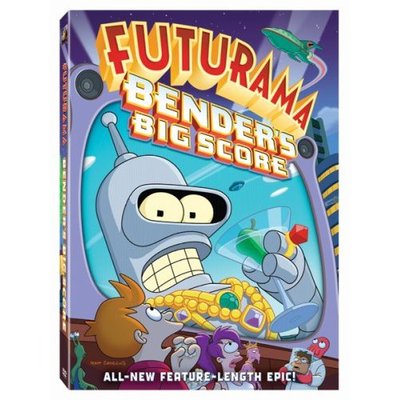 It's official: Bender's Big Score, the first of the four Futurama movies will be available on DVD on November 27.
According to creator Matt Groening, the movies will later be re-edited with new material as episodes to be shown on Comedy Central, though on the basis of the official plot description there may be stuff removed too:
"As Xmas 3007 approaches, the Futurama crew must fight to save Earth in an epic battle against nudist alien Internet scammers. When the evil naked aliens launch a cyber-attack on Planet Express, they make a shocking discovery: the secret of time travel, mysteriously tattooed on Fry's buttocks. Using their devious nudist software to control Bender, they repeatedly send the beer-fueled robot back in time to loot Earth of its greatest treasures. Bender's rampage through history has shocking repercussions when he encounters Al Gore (guest-starring as himself) during the 2000 Presidential recount. Meanwhile, Leela finds true love, a beloved crew member suffers an embarrassing decapitation, and Fry learns deep secrets about his destiny and his buttocks."
You can learn more about Bender's Big Score from these articles at ign.com. More entertainingly, you can watch this Comic-Con panel discussion featuring most of the original cast and creators Matt Groening and David X. Cohen. (It's amazing what unrestrained hams voice actors can be when given the chance to appear in public compared to actors faced with working without a script at press conferences.)
Read More