Baboons Invade: Make Your Own Plot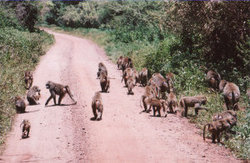 A few years ago, I flew into Cape Town, South Africa to do a story on diving for great white sharks. What scared me as much as the sharks were the baboons I discovered on a trip to the Cape of Good Hope. As I climbed up the many stairs to view the wonders of the Cape (which is truly an otherworldly site), I dealt with some slightly evil members of the local baboon population and that was very off-putting (to put it mildly).
Now, reports Sky News, "The chacma baboons, which live wild in the Cape peninsula, have been
raiding people's homes for food and causing thousands of pounds in
damage.
"People here are getting very angry," Dr Peter Kirsh said, as a baboon strutted along the street beneath his balcony.
"They
get into the kitchens, they know where the fridge is, they open it and
take everything, and then they defecate everywhere." Wouldn't this make a great horror film if the baboons took things a step further? Along those lines, what kind of innovative horror plot would you write? Of course, are many films withh evil baboons, starting as early as Balaoo the Demon Baboon (1913). So you've got your work cut out for you.
Read More