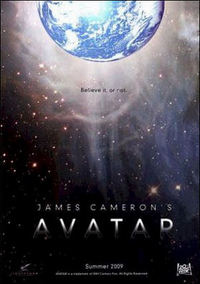 James Cameron has one of the best reputations I have ever seen. First he comes out of nowhere and surprises the world with a string of sci-fi hits (The Terminator (1984), Aliens (1986), The Abyss (1989), Terminator 2: Judgment Day (1991)) then, after a little side boat trip into Academy Award waters, nothing until 2002's Dark Angel TV series. Now, his well-publicized return to sci-fi film, Avatar, is not only highly anticipated, but it's the talk of the web. Talk about buzz!
Avatar just began filming. The cast includes Wes Studi, Sigourney Weaver (a reuinion of sorts for Cameron), Sam Worthington, Zoe Saldana (Trek's new Uhura), Peter Mensah, CCH Pounder, Laz Alonso, Joel David Moore, Joel Moore, Stephen Lang, Michelle Rodriguez, Giovanni Ribisi (from Sky Captain and the World of Tomorrow). Avatar's expected release date is May 2009.
Why the long production time? Avatar is yet another special effects-heavy film. But Cameron wanted to do something more than just another sci-fi flick with people acting against green screens. (I'm looking at you Star Wars prequels!) Avatar will only be shown in 3-D.
I'm not entirely sure how this will play out. I only saw one movie in 3D (that'd be Jaws 3D) and the effect was cool (The movie? Not so much…), but I'm not sure the 3D was anything more than a gimmick. Could Cameron be looking to boost an otherwise lackluster idea?
Read More