And Now The Latest Uhura News…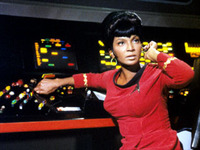 Two bits of Lt. Uhura-related news making the rounds this week. (When was the last time that happened?)
First up is that the role of Lt. Uhura in the upcoming J.J. Abrams' Trek film has been cast. Zoe Saldana (Pirates of the Caribbean: Curse of the Black Pearl) is the lucky actress whose future is now certain to involve touching the sweaty palms of eager Trekkers at Star Trek conventions. (The new Trek is set for a Christmas Day 2008 release.)
The second piece of news: Nichelle Nichols, who played the original Lt. Uhura in the original series, has been cast in Heroes, NBC's surprise hit involving a time traveling swordsman, a cheerleader and a psychopathic killer. Nichols is not the first Trek star to appear on Heroes…George Takei has a recurring roll as Hiro's strict father.
But the Heroes/Trek linkage doesn't end there…
On the Trek movie front, Malcolm McDowell, who starred on Heroes last season, was also in Star Trek: Generations. And finally, Heroes' Zachary Quinto (Sylar) will be playing Spock in the Abrams Trek film. That's about as confusing as television casting pseudo-nepotism gets. The relationship diagram here is very convoluted…I'm sure Kevin Bacon is in there somewhere.
Trek's Uhura joining Heroes [TV.com]
Read More