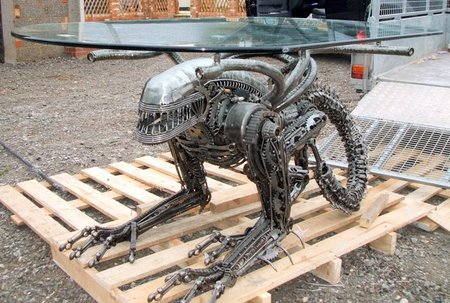 So you've ordered your metal Terminator sculpture from Thailand and now you're looking for something that completes your living room ensemble while complementing it at the same time?
Look no further than this Alien coffee table! The craftsman of these beauties uses "carefully selected" used car and bike parts, tools and other recycled metal components to make each individual piece "subtly unique". I think by "carefully selected" he means "any old piece of metal he can find" and by "subtly unique" he means "weighing about 150 pounds and inconsistently produced".
I will admit that there is a certain level of coolness in looking at and appreciating things like these as pieces of art. But seriously, are there hordes of sci-fi fans out there who are actually furnishing their homes with this stuff? Sure, there is the occasional superfan who decks out his apartment like the deck of the U.S.S. Enterprise or who outfits his home theater to look like the inside of the Death Star, but is this behavior all that commonplace?
Perhaps I'm out of touch, but a simple Google search does not reveal much more beyond these few pieces…other than an occasional robot lamp, that is. If I has the audacity to pursue a course of action that resulted in my home being decorated like this, I'd be looking for a new wife. Or a metal sculpture of one to go with my cool Alien coffee table.
Alien Coffee Table [Neatorama]
Read More