Adrian Paul Returns As The Highlander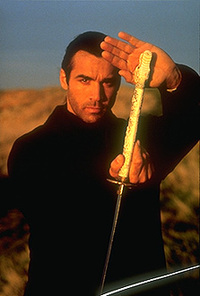 I have scarcely ever met a geek girl with a passion for sci-fi and fantasy who didn't practically drip off the sofa in an involuntary gushing of lubricating fluids the moment Adrian Paul as Duncan MacLeod ripped off his shirt and started whipping around a samurai sword to a background crescendo of Queen during the opening credit sequence of Highlander: The Series. In fact, Adrian Paul's strange amalgamation of swarthy good looks, sensual accent and, let's face it, slightly gay pony tail has melted the hearts and the loins of numerous women in my life: from my college sweetie to my aged mother. And these same women? Tore their dresses and smeared ashes on their face when Highlander: The Series finally got canned.
So ladies? Good news! Set your panties to melt. Adrian Paul is making one more stab at the role of Duncan McLeod, in the SciFi Channel original movie Highlander: The Source.
The latest film — premiering tomorrow night! — involves Duncan's attempt to find the origin of the Immortals power, "the very same force that has gripped him in a constant battle where there can only be one."
Admittedly, that sounds pretty stupid: I thought Highlander II had already established the "source" of the power. They're all aliens, right? I kid. That was stupid and the series immediately retconned it. I'm skeptical of the dramatic edge of the whole "origin" concept: the mystical allure of the "There Can Be Only One" Immortal dogma is part of the series' charm, especially when they muddled it so badly before.
But hell. I'm on board for more Adrian Paul, even if it is a SciFi Channel original, a universal symbol of pestilent quality. The Highlander series holds a guilty place of fondness in my heart, and I don't care what anyone says: Adrian Paul was a thousand times the Highlander as the weird, lisping Belgian that preceded him.
Paul Returns As The Highlander [Slice of SciFi]
Read More