A Poster Appears From "The Mist"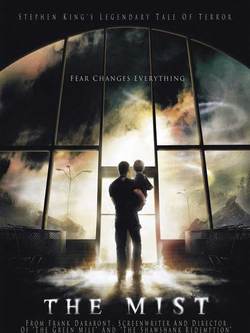 The Stephen King-based The Mist might seem like a The Fog rip off (both The Fog and Stephen King's original novella "The Mist" were released in 1980), but there is one aspect of The Mist that separates it from other ghost stories — the religious overtones (check out the trailer). A new poster, found on IGN.com, capitalizes on the religious themes — notice the central white light and crucifix-esque window frames. Even the poster's symmetry alludes to that of a religious altar.
The film was penned for the screen and directed by Frank Darabont (The Green Mile, The Shawshank Redemption ), which means that it has a fighting chance of exploring the horrifying themes found in the Book of Revelations. Despite The Reaping making an attempt at religious horror earlier this year, there hasn't been a movie to reach the terrifying heights of The Omen or The Exorcist. Hopefully, Darabont can deliver a movie that is worth prophesizing about.
Read More