A brief early word on The Dark Knight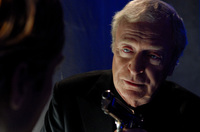 During an interview at the Toronto Film Festival for his new film Sleuth, Michael Caine was asked about The Dark Knight, the 2008 release in which he reprises his Batman Returns role as butler Alfred Pennyworth.
"We just finished shooting that two weeks ago in Chicago," he says. "Well, I finished; they continue shooting until October in Hong Kong."
"I'll tell you what will be the revelation of that film will be: Heath Ledger as the Joker. He is fantastic."
Ledger and Christian Bale, who will be back as the Caped Crusader, can also be seen in Toronto in I'm Not There, for which, as Caine points out with a mixture of amazement and awe, "Cate Blanchett won the award in Venice for playing Bob Dylan! I thought, bloody hell, I'm gonna play Marilyn Monroe!"
Read More