7 Sci-Fi Movies For Parents to Share with Their Kids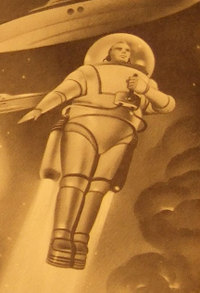 It is said that the Golden Age of science fiction is 12. Usually, it is said in reference to books, but there is no reason that the same logic cannot apply to sci-fi movies as well. Nothing captures the imagination like science fiction and there's no better time to get hooked than when you're young.
As science fiction fans grow up and become parents, they may want to pass on their love for the genre to their kids. But what movies do you give them? The best choices are ones that appeal to audiences of all ages. There's no worse movie-going experience for a parent than being forced to sit through an excruciatingly painful piece of celluloid trash that they cannot walk out of because their kids love it.
Here are seven fine sci-fi films that you can enjoy with your kids.
---
E.T. The Extra-Terrestrial (1982, Rated PG) – A benevolent alien visitor is left behind on Earth and a group of kids help him try to return home. This is one of Speilberg's most popular movies, probably because of its magical quality. 10-year-old Elliott develops a close connection with E.T. and helps him assimilate into Earth (luckily it's Halloween) as the alien tries to phone home.
---
Jimmy Neutron: Boy Genius (2001, Rated G) – Spawned from the Nickelodeon TV show, Jimmy Neutron is a CGI feast of retro sci-fi. Super genius Jimmy and his friends must rescue all the town's parents who have been abducted by aliens. There's a nice be-careful-what-you-wish-for lesson regarding every kid's "no-parents" wish fulfillment fantasy. Patrick Stewart does some nice Shakespearean work voicing King Goobot.
---
Robots (2005, Rated PG) – Another CGI flick, this one with an all-robotic cast of characters. Expert inventor Rodney Copperbottom (voiced by Ewan McGregor) wants to make it big and seeks out the legendary inventor Bigweld, only to find that corporate greed means bad news for Rodney's dreams of a better world. Another fun movie. Despite Drew Carey's lackluster performance as Crank, there are more than enough laughs via Robin Williams, Mel Brooks, and (my favorite) Paul Giamatti as Tim the Gate Guard.
---
Star Wars (1977, Rated PG) – The granddaddy of all modern science fiction movies, this one set the new standard for – and some say an unhealthy reliance upon – special effects. But there's no denying the charm of Lucas' best work, based on the common mythology of Hero saves Princess. Think back to when you saw this as a kid and you'll see why this is a great legacy to pass on to your own kids.
---
The Iron Giant (1999, Rated PG) – In the paranoid 1950s, a young boy befriends a giant robot who arrived from space and is being hunted by the U.S. government. This is based on Ted Hughes' excellent story The Iron Man and it maintains all the retro charm of that source material.
---
Treasure Planet (2002, Rated PG) – This is Disney's version of Robert Louis Stevenson's Treasure Island…in spaaace! The usual translations apply: the island becomes a planet, Long John Silver is a cyborg, etc. But the core story remains and is as compelling as ever.
---
Zathura (2005, Rated PG) – Two brothers and a sister play an old sci-fi board game whose events affect the real world. This is most easily summarized as "Jumanji in space", and it's no wonder; both movies were based on books by the same author, Chris Van Allsburg. Despite the glaring scientific impossibilities of a house floating in space with no loss of air, minimalist use of CGI by director Jon Favreau (also director of the upcoming Iron Man movie) helps make this quite an enjoyable movie.
Read More