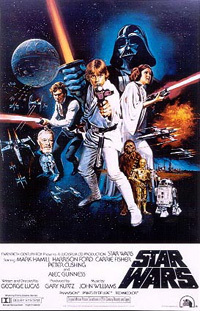 This year, the American Film Institute is celebrating its 40th anniversary with a giant, star-studded event at the ArcLight Hollywood theater in Los Angeles. Eleven classic American films, chosen from AFI's list of 100 greatest movies, will screen simultaneously and each one will be personally introduced by that film's star or filmmaker.
One of those eleven screenings will be the beloved sci-fi movie Star Wars, presented by Mr. George Lucas himself, who will take a break from being a billionaire to be a billionaire at a movie screening. Tickets for the October 3rd event go on sale Wednesday, September 19th. The $25 ticket price includes a popcorn, a soda and a chance to ask George Lucas about Greedo shooting second, Jar Jar and midi-chlorians. Note to potential attendees: the recommended "festive attire" does not include Stormtrooper and Vader costumes, though I suspect they will be a little lenient on slave girl metal bikinis, if you know what I mean.
Star Wars is the highest ranking sci-fi film (#13) on AFI's list. Other science fiction entries on that list include 2001: A Space Odyssey (#15), E.T. The Extra-Terrestrial (#24), King Kong (#41), A Clockwork Orange (#70), The Sixth Sense (#89) and Blade Runner (#97). I leave it up to the Genre Nazis to debate whether Raiders of the Lost Ark (#66) should be included in this subset.
Lists almost never seem to coincide with everyone's tastes. So this begs the question: Which science fiction films do you think should be added to AFI's list of 100 greatest movies?
Read More