33 Sci-Fi Movies That Rate Worse Than Dragon Wars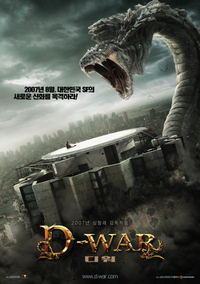 I like reading movie reviews. More specifically, I like reading negative movie reviews. Negative reviews give the reviewer a chance to be creative, to say something interesting. There are only so many ways to say something was good. There are nearly an infinite number of ways to say something was bad.
The reviews for Dragon Wars (a.k.a. D-War) is a good example. Metacritic, which tracks movie reviews from multiple sources and aggregates them into one giant, color-coded rating, gives Dragon Wars a 38 on scale of 100. The most positive review listed said "Frankly, it's dumb, but no dumber than 'Transformers.'"
For the record, Dragon Wars is not the worst to fare by MetaCritic's aggregate. Here are 33 movies that rated worse than Dragon Wars…
Battlefield Earth (2000) [9]
The Adventures of Pluto Nash (2002) [12]
Rollerball (2002) [14]
Ultraviolet (2006) [18]
Supernova (2000) [19]
Species II (1998) [19]
Wing Commander (1999) [21]
Congo (1995) [22]
A Sound of Thunder (2005) [24]
Time Changer (2002) [26]
Timeline (2003) [28]
Alien vs. Predator (2004) [29]
The Postman (1997) [29]
The Butterfly Effect (2004) [30]
The Cave (2005) [30]
It's All About Love (2004) [32]
Don't Ask, Don't Tell (2002) [33]
Mission to Mars (2000) [34]
Undead (2005) [34]
Doom (2005) [34]
Demolition Man (1983) [34]
Dreamcatcher (2003) [35]
Resident Evil: Apocalypse (2004) [35]
Sphere (1998) [35]
Stealth (2005) [35]
Event Horizon (1997) [35]
Returner (2003) [36]
Thunderbirds (2004) [36]
Predator (1987) [36]
Box Head Revolution (2002) [36]
Aeon Flux (2005) [36]
The Reaping (2007) [36]
Underdog (2007) [37]
[Note: Bracketed numbers denote Metacritic's aggregate rating.]
Read More