Your Face In A Carbonite Slab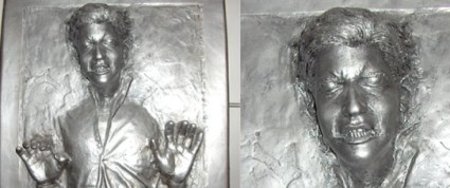 Just a warning: today's a very slow news day in what is traditionally a slow news month. Luckily, whenever things get slow, the nets can be cast and the dregs of the Internet dragged. And when you do, a lot of cool Star Wars links tend to surface.
For example, the above slab of Carbonite. At first glance, you might be forgiven for thinking it's Harrison Ford's studly visage contorted in agony in the quicksilver-like cryogenic solid.
But then you notice the crooked teeth, the dorky grimace, and you realize something is not quite right. The face is not Han Solo's. Rather, it's the face of Star Wars aficionado Rob. His friends, who work at a special effects company in the US, asked Rob to lend his face to a recreation fiberglass cast of the original Empire Strikes Back prop.
Rob initially was reluctant, but he relented. Unfortunately, the resultant prop has wreaked havoc on his love life. "It's successfully scared off many ladies," Rob admits. In gold bikinis, no doubt.
Pic Of The Day: Customised Carbonite [Lost Weekened]
Read More