Young Stormtroopers in Love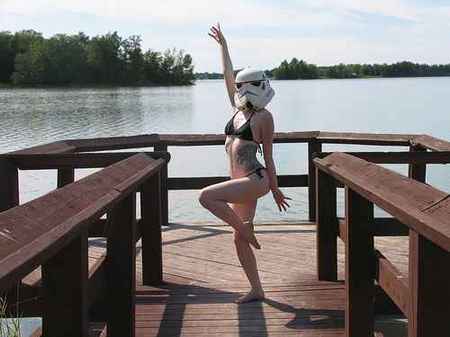 For the individual whose passions include both Star Wars and sadomasochism, the convergence point is in the Stormtrooper helmet. Like the leather, zip-lipped BSDM hood, the stormtrooper helmet is confining, almost sepulchral, and makes for little pillow talk. And it is, of course, worth noting that the Emperor himself seemed to be a bit of an S&M fetishist: consider the leather slave get-up he crammed Anakin Skywalker's charred, pulsating remains into to create Darth Vader. Aleister Crowley would have been proud.
But there are less outlandish and degrading sexual applications for the seminal stormtrooper helmet. Consider this Flickr gallery of Red and Jonny, two Star Wars cosplayers who apparently fell in love at a sci-fi convention somewhere. As it turns out, a stormtrooper helmet makes a bikini babe all the more alluring. And even pudgy, pallid, would-be He-Men look more muscular when their face is obscured by the mask of Imperial Galactic evil.
The beach pictures are the most cheesecake of the bunch, but there's some other touching galleries in the photoset, including "Young Stormtroopers in Love in Toronto" and "Young Stormtroopers in Love Grocery Shopping." I must buy my girlfriend one of these helmets to spice up our love life: after all, I already have a perfectly good Yoda mask for myself.
Young Stormtroopers in Love [Flickr]
Read More