Wow! Lotsa Creepy Horror At Toronto Film Fest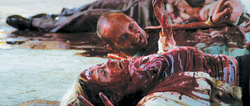 So many horrors, so little time. If you're going to the Toronto Film
Festival next month, you'll be able to see some terrific scary movies
at the Midnight Madness mini-fest. What do I mean? Well, there's:
Stuart Gordon's Stuck — The Re-Animator director's Stuck isn't a traditional horror film. But it'll scare the life out of you. Supposedly, it's a "thriller with a Hitchcockian flare."
George Romero's Diary of the Dead — It's Romero's "first independently produced zombie film in over two decades." The apocalypse lives! Long live the apocalypse.
Adam Mason's The Devil's Chair — How I love a horror film set in an asylum. This one involves unseen forces and " a cross between an electric chair and sadistic fetish machine." Oooh!
Julien Maury and Alexandre Bustillo's À l'intérieur — It's reported to be "the goriest film since Peter Jackson's Dead Alive." Also, it's stars the very alluring Beatrice Dalle (Betty Blue).
Read More