Warner Bros. Announces Logan's Run Remake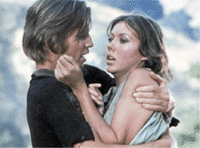 Logan's Run is justifiably a classic. It's filled with bizarre, wonderful concepts: birth crystals, LifeDays, Sleepshops and Sandmen. Not to mention a bevvy of 70's beauties in tin-foil bathing suits.
However, it's a movie deeply rooted in the hippy futurism of the 70's. So I'm rather skeptical that it can be remade successfully, as the Hollywood Reporter is currently reporting Warner Bros. to be threatening.
The director attached to the project is newcomer Joseph Kosinski, who has previously directed a number of commercials. The only things that are known about the remake is they are going to keep it low-tech and hew closer to the book than the original film.
Apparently, the new film will focus more on the concept of blindly following the concept of the "greater good" over individualism. Not exactly a fable I needs to be made, since it'd be refreshing to see more people put themselves selflessly towards the greater good, but at least it seems like they are attempting to mimic the ethos of the first film.
If they can get a love interest as hot as Jenny Agutter, I'm sold.
Warner Bros. Pictures is new runner for 'Logan' [Hollywood Reporter]
Read More