War of the Worlds Diorama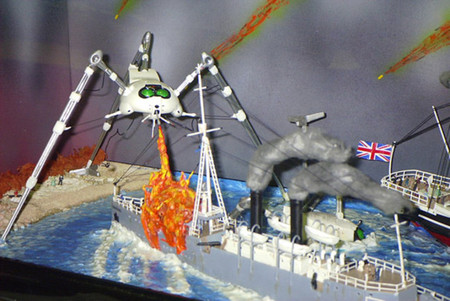 The lumbering tripods of blood sucking extraterrestrials vaporizing Victorian London were perhaps never better realized than the paintings done by Michael Trim for The War of the Worlds musical. Not an actual musical, per se, but really a progressive rock concept album featuring talents as diverse as Richard Burton, Justin Hayward of the Moody Blues and former Elton John lyricist Gary Osborne, Trim's cover is a classic of sci-fi illustration.
Trim keeps a website of projects now and he's just posted up some incredible shots of a diorama based upon the War of the Worlds album cover, featuring a Martian tripod using its heat ray against a British battle ship. The diorama's about three feet long and actually plays "Thunderchild", one of the songs on the album.
I'm a sucker for Tripods: never have extra-terrestrials had a cooler vehicle to putter around Earth in, wreaking destruction. Trim's version of the Tripods aren't quite my ideal: Kevin O'Neills clattering bronze steampunk tripods are more my internal idea of what they should look like. Never the less, these dioramas are very nice.
Mike Trim [Artist's Site]
Read More