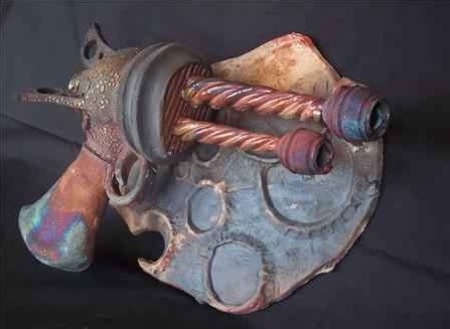 The rallying cry of retro-futurism is "Where's my jetpack?" but, if we're being honest, it really ought to be "Where's my ray gun?" I mean, don't get me wrong, a jetpack's pretty swell: a chrome backpack filled with explosive rocket fuel strapped to your back, then ignited. Who wouldn't think that's a swell way to commute? But the allure of the jetpack somehow pales in comparison to the pure practicality of melting your enemies into screaming skeletons.
In regards to both the jetpack and the ray gun, science has let us down. Thanks, scientists. But on the ray gun front, artists have stepped up to the plate, and no more so than Raku Rayguns of West Magoon, who create ceramic blasters designed to look as if they've been unearthed, half-fossilized, from a long buried UFO crash site.
Better yet, each gun has been named after a famous sci-fi author, actor or character. I am, of course, particularly partial to the Burroughs Barsoom model, but all are wonderful. Seen above? The Mothra Transmogrifier, only 300 bucks.
Raku Ray Guns [Official Site, via Brass Goggles]
Read More