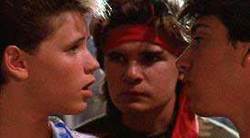 The Lost Boys sequel (actually titled Lost Boys: The Tribe), which just started production this week, has officially gotten interesting.
First came word that it was originally going direct-to-video and without any of the returning characters, which made some people cry. Now they're shedding tears of joy because both Corey Feldman and Corey Haim (along with Jamison Newlander) are all confirmed to return. And on top of all this, none other than Tom Savini will be playing one of the film's surfing vampires. The powers behind this one obviously know what the fans want to see and are more than happy to give it to them. But what about Jami Gertz?
The director is P.J. Pesche, who seems to specialize in direct-to-video sequels (From Dusk Til Dawn 3: The Hangman's Daughter and Sniper 3), though Dusk Til Dawn 3 was actually pretty decent. As long as it's a true sequel and not a rehash, we'll be there.
Read More