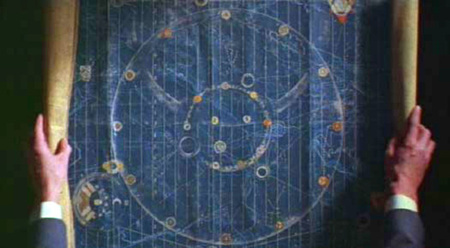 To travel through time and space, you need a map. Not just any map: an intricate Neo-Copernican cartograph of chronological cosmology. Any collection of bizarre British midgets can tell you that (reference: Terry Gilliam's bizarre time travel opus, Time Bandits).
But where do you get a map like that? From John Heliman of Metropolis Freelance Graphic Design.
I have loved Time Bandits since I first saw it 26 years ago. Being a Monty Python fanatic, I was excited to see a Terry Gilliam film – particularly starring Sean Connery, John Cleese and Michael Palin. Another star of the film for me was the art direction. I really admire the look of this film. It has some truly nightmarish images which hint at things to come from Mr. Gilliam with Brazil and Twelve Monkeys. That detail extended down to the props. One prop in particular has always sparked my interest. I have always wanted a copy of the map from Time Bandits. I recently decided to create my own replica of this exquisite prop.
John is selling quality canvas reproductions of the Time Bandits map for $105.00, which might seem a little bit steep, but if you can afford a thousand bucks for a wristwatch GPS unit, you're likely to begrudge yourself not buying a time travel map when you get stuck at the end of the universe a millisecond before the Big Crunch.
Time Bandits Map [Metropolis]
Read More