The World Record for Dalek Cosplay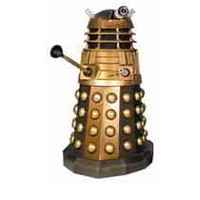 There's a record for everything. Don't believe me? Consult page 729 of the 2005 edition of the Guinness Book of World Records, where John Brownlee is prominently displayed as the individual who went the longest responding to every comment made to him by his friends and family with the phrase, "That's what you think…" accompanied by a dismissive eye roll. Also consult page 525 for John Brownlee's accompanying world record of most kicks to the groin dealt at a single wine party.
Even so, I'm a bit agog at the latest world record a group in Manchester is aiming for: most people dressed up as Daleks at one time.
On Sunday, August 26th, the Museum of Science and Industry is going to attempt to set the record for human daleks at their "Doctor Who — Up-Close" exposition. The exhibition allows visitors to "et up-close to actual props, costumes, and monsters from the hit BBC program, including the Empress of Racnoss from the Christmas Special, The Runaway Bride" and features "exciting new items from the latest programs once they have been seen on TV."
They are inviting all resident Britons to show up in the full glory of their Dalek regalia and help them set the record. There's no word as to how many people this is going to require: my guess is that the Guinness World Record for Dalek Cosplay can be comfortably set by two people in Dalek t-shirts hovering within fifty feet of another. But my hope is the turn-out will be more epic in scope.
Dress Like a Dalek; a Record Attempt [SF Scope]
Read More