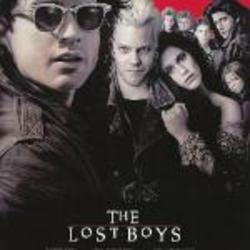 "Angus Sutherland, Keifer's half-brother, Kyle Cassie (Devour), Shaun Sipos (The Grudge 2) and Merwin Mondesir (Godsend)." That's Cinematical quoting Moviehole about The Lost Boys 2: The Tribe — . Apparently, Moviehole has a mole … in casting, that is.
About the rumored cast, Moviehole continues, "They'll be the ones keen to turn young siblings in trouble, Tad Hilgenbrink and Autumn Reeser, into creatures of the night.
Corey Feldman and Jamison Newlander are reprising their roles from the first film –
and yes, despite reports that Corey Haim is having some working visa
issues, he's still very much a part of the film. The producers are
going to work him into the film somehow… because, we're told, he is an integral part of the film. So yes, he'll still be in it. Even if it
means smuggling him in the boot of Nathan Fillion's car when he heads
home for Thanksgiving."
To be honest, I didn't like the first one all that much; but maybe the second one will rock my socks off. Why? P.J. Pesce, who, in full disclosure I know, is directing. P.J.'s gonna nail this one.
Read More