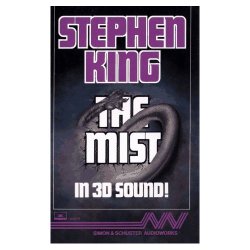 I sure loved all those Stephen King short story collections when I was a fey, withdrawn schoolboy. I would lug those big crease-paged paperbacks all over campus and I didn't even skip the poems which, bafflingly, fill out the chapters of Skeleton Crew.
Is there a story from Night Shift that wasn't made into a movie? Maybe the one where the kid was like, "A looooong time, dad! A looooong time!" Shudder! Wait, maybe that was in Skeleton Crew.
Regardless, when I learned to drive I couldn't motor around and read at the same time, though I sure tried, boy howdy. That's why I flipped my Christopher Lee as The Bloody Judge inspired powdered wig when I found this audio book for The Mist (pictured!)
Take the leap to surround your senses!
It wasn't just an audio book, it was an audio play. They, like, acted it out and, I'll admit it taught me how to pronounce some words I only pretended to know (like "expiation" – which that old woman says, like, a gazillion times).
It was also presented in some kind of speaker-shifting fade-knob freak out 3D sound. No glasses necessary! No weird blue and red headphones necessary! Just your car stereo (if you had a cassette player, and the Ravenmobile had one. Natch!).
I would listen to the folks hiding in the grocery store and hear rustling and scraping and, eventually, the squelching of tentacles. Super immersion! Great car rides of theatric fantasy!
It became my favorite King story, and now it will be a movie in November! I think I'll drive to the theater!
Another amazing closing line! Reading Ptolemy's essays is totally paying off!
Read More