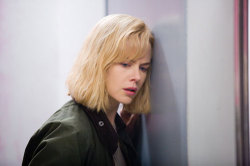 Greetings from the Emerald City where, if you have never been, the crows croak from the top of the Space Needle to herald the break of day. Perhaps they ate the roosters. It's a pretty sweet town, snagged by Romance movies but not enough horror. If they do one here (and they should) they might take inspiration from these screeching wetbeaks.
While we wait for our Seattle-based frightener (which, hidden bonus question of the week, would be called what?) we'll have to settle for The Invasion which, we are given to understand, is a super mess. That's a shame. A devastating preview resides here by our spiritual kinfolk at bloody-disgusting.com.
The word "here" above is a link! How do the colors of our links work for you with the new background? report!
Sneak your Seattle horror movie suggestions into the comment box below. Something to do with coffee, perhaps? My hotel has taps with hot water, cold water and coffee. It's a three tap town!
Read More