The Horror of Nicole Kidman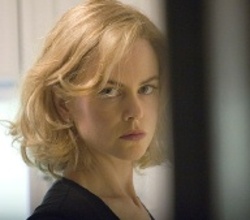 Another Nicole Kidman horror movie … with ghosts … like The Others? Variety is reporting that "Universal Pictures has acquired remake rights to the Colombian horror
film Al final del espectro, and will develop it as a starring and
producing vehicle for Nicole Kidman."
The deal? "Plan is for Kidman to play a woman who, after a tragedy, is encouraged
by her father to take refuge in a fancy apartment building. She becomes
a shut-in, and begins to see a ghost." This would be her second producer credit. The first? Jane Campion's In The Cut.
I think Nicole's one of the better actresses of our time. Yet I thought The Others was predictable, though watchable. Are you guys looking forward to this new Nicole horror movie? Has anybody seen Al final del espectro?
Read More