The Greatest Hitchcock Film You've Never Seen (And It's by Roman Polanski)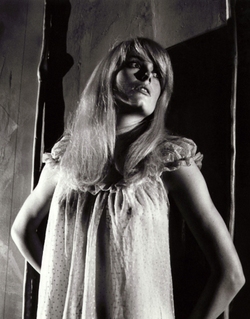 Roman Polanski's Repulsion was one of the most influential and popular horror films of its time, a film that was often compared to Hitchcock's Psycho and, like that classic, brought a new type of psychological horror film to audiences. It was one of the few genre films to be a hit with both critics and audiences and it paved the way for Polanski to make the all-time classic Rosemary's Baby. So why isn't it available on DVD in the U.S.?
There is a pretty good DVD from Anchor Bay in the U.K. and a bad bootleg that some places are passing off as the real thing, but for some reason Repulsion remains missing from the DVD scene. Despite a theatrical re-release about ten years ago, the rights appear to be tangled, depriving DVD viewers of this classic film.
This is a shame. Repulsion remains one of the darkest, most intense and imaginative fright films, a justifiable classic. Polanski seems to have picked up where Hitchcock left off with Marnie, telling the story of a sexually repressed young woman (Catherine Denuve) who traps herself in her apartment when she finds herself unable to deal with men. But unlike Marnie, her delusions also lead to madness, complete with a body count.
Part of what is so great about the film is that Polanski actually makes you feel sympathy for this woman (she is equal parts killer and victim) and the film's stunning final revelation is equally chilling and intriguing, explaining much but not giving any easy answers. It's an extremely intelligent film that also works on a visceral level, with several "jump" moments that still get you today. I'm a little stunned at how many horror fans today have never seen (or heard of) Repulsion, which makes a DVD release all the more important.
Read More