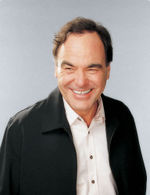 Oliver Stone, no stranger to films
about the Vietnam War (Platoon, Born on the Fourth of July, Heaven and Earth) is near a deal with
United Artists to direct Pinkville
(sounds pretty!), a film about the My Lai massacre (sounds unpretty!).
According to freelance journalist
Ron Ridenhour, who investigated the incident and presented then-President Richard
Nixon with a letter describing his findings, "urban areas were all colored pink
on military maps" and this one in particular was "considered to be hot, and so
we called it Pinkville."
Bruce Willis and Channing Tatum (A Guide to Recognizing Your Saints and
the recently completed Stop Loss)
will play two of the lead roles; Michael Pena (Babel, World Trade Center)
is in discussions to play the third.
Stone had been considering making
a film about the search for Osama Bin Laden in Afghanistan, but perhaps after
hearing President Bush compare the current war to the Vietnam conflict, Stone realized
it was six of one, half a dozen of the other.
Read More