Star Trek Mortality Analyses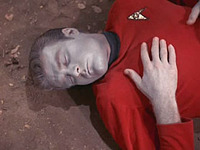 Geeks can calculate, conjugate and coagulate data points on nearly anything. They can do the math, program the data into a spreedsheet and array them in important-looking pseudo-scientific graphs. And God bless them for it, for without them, then Internet would be only half full.
Continuing the trend, Matt Bailey over at web analytics site The Inside Track has posted a complete set of data points, including analysis, of death rates in Star Trek: The Original Series.
No surprises here, the red-shirts are the first to get it:
• Yellow-shirt crewperson deaths: 6 (10%)
• Blue-Shirt crewperson deaths: 5 (8 %)
• Engineering smock crewperson deaths: 4
• Red-Shirt crewperson deaths: 43 (73%)
A lot of chin-scratching and eyebrow raising goes on for several thousand more analytical words, before coming to the conclusion we knew all along: "We can reliably improve the survivability of the red-shirted crewmen by only exploring peaceful, female-only planets (android and alien females included)."
Shift over to The Next Generation though? The death stat suddenly flips over to condemn the yellows. Rough luck to have your life hanging by the thread of a uniform.
Analytics According to Captain Kirk [Clicktracks]
Read More