Shannyn Sossamon Screams In One Missed Call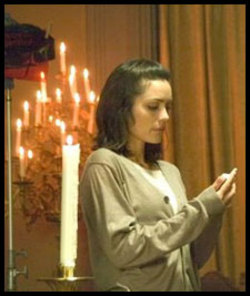 Ever since I saw her do her DJ gig at a Hollywood party years ago, I've been a fan of Shannyn Sossamon. I mean, who didn't like A Knight's Tale and her creepy dead girl role in Dirt? Yep, she's done some stinkers, but I'm looking forward to One Missed Call, a Japanese remake about women who receive phone calls only to hear their own death throes. The horror flick hits theaters in January.
Recently, Sossamon talked with Bloody Disgusting about the movie, saying, "The imagery of the hallucinations are creepy… there are a lot of
life-like doll (ghosts) figures randomly placed everywhere," she
explains, "It's scary and beautiful at the same time… [there's] a lot of disturbing imagery like that.…Stick through the film, the end is REALLY scary!" OK, Shannyn, I'm holding you to that. I want to be scared. REALLY scared. REALLY.
Read More