Serenity Collector's Edition Now Available for Pre-Order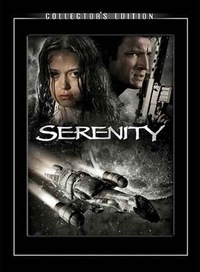 Ever since Joss Whedon gave us Browncoats a brief glimmer of hope by suggesting that sales of the Serenity Collector's Edition would be the key to seeing more Firefly, I've been eager to give my twenty bucks to the cause.
Good news, then: it's now available for pre-order over at Amazon.com.
In case you missed the breakdown of extras, here's what the Collector's Edition contains:
• Cast and crew commentary
• Extended Scenes (6:45)
• Take A Walk on Serenity (4:00) Cast and Crew take us on a special tour of the Serenity space ship
• A Filmmaker's Journey (19:49) Take A Journey with Joss Whedon from script to the big screen
• The Green Clan (3:03) An expose on Cinematographer Jack Green and his
team
• Sci-Fi Inside: Serenity (21:41) Hosted by Adam Baldwin, an in-depth look at the film that was resurrected from a cancelled television show, as well as its supportive culture.
• Session 416 (7:52) These internet pieces document a portion of River's participation in a psychological study and her interactions with her therapist.
• Feature Commentary with Director Joss Whedon and Cast Members Nathan Fillion, Adam Baldwin, Summer Glau, and Ron Glass
A couple of these features look like they are shared with the Firefly disc set (I'm almost positive I've seen the "Take A Walk on Serenity" feature) but all in all, the set looks good enough to be worth $18.89 even without the prospect of your purchase directly influencing a Serenity II (which I like to imagine would be subtitled "Serenity Now!")
Serenity (Collector's Edition) Pre-Order [Amazon]
Read More