SciFi Scanner Weekly Round-Up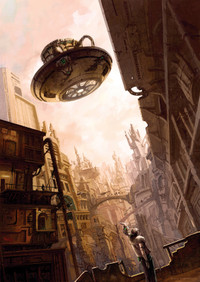 The flotsam and jetsam of the science fiction blogosphere left in our browser at the end of the day, in convenient digest form.
• After three stinkers in a row, M. Night Shyamalan aims to ruin another genre: the post-apocalypse.
• A rather insinuating and cynical list of quotes from the creators of Battlestar Galactica, implicating people who don't like the show as idiots.
• More BSG: a gun enthusiast's analysis of the Galactica crew's pulse pistols.
• The rumors are swimming about the new Justice League movie, including the rumor that Tom Welling will play Superman and that Bruce Willis might be in line to play Lex Luthor. Well, he's certainly bald enough.
• Via SF Signal, a list of reasons why Halo would make a better television series than a film. I'm not convinced.
• Not much of a shock: Zachary Quinto is tapped to play Spock in more than one film.
• If you're willing to wait six minutes, you can hear the monster's roar on J.J. Abrams' 01-18-08 site. I'm still hoping it's Cthulhu.
• Flying Saucers: the new commercial jumbo jets?
• Never Trust A High School Klingon dancing around to synthesizer music.
Read More