Rose McGowan To Be Next Barbarella?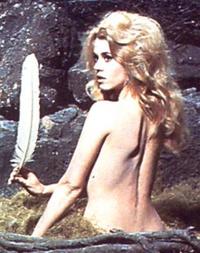 Those who read my Five Bizarre Sci-Fi Weapons post might have gleaned that I love Dino de Laurentii's wacky sci-fi erotic film Barbarella.
It's a guilty pleasure, I admit, based entirely upon the film's penchant for enthusiastic cheesecake. Barbarella is a space-age superheroine who sluts her way through any adventure, no matter how dangerous. It's hard not to love a movie that not only features a torture-device called the Orgasmatron, but features a torture-device called the Orgasmatron that Barbarella breaks.
Apparently, a Hollywood remake of the film is in the works, to be directed by Robert Rodriguez of Grindhouse, Desperado and From Dusk Til Dawn fame.
Moreover, the latest rumor is he's got his Barbarella: his girlfriend and Grindhouse leading lady, Rose McGowan.
There's no official confirmation that she's got the role, only reports that Rodriguez is using her in test footage, but she's actually a pretty good choice. There's no replacing Jane Fonda's bubbly depiction of Barbarella, but McGowan's got the same ditzy, lusty demeanor… not to mention the curves.
Rose Barbarella? [JoBlo]
Read More