Rosario Dawson to Star, Produce Online SF Animation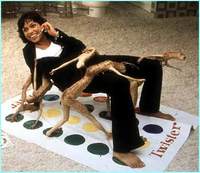 Sometimes, there's no choice but to succumb to the allure of a beautiful actress. You can fight against it, you can tell yourself not to get excited sight unseen, but at the end of the day, the doe-black eyes, the chewable lips, the sauntering sway of the hips get to you. It must be a deeply rooted masculine response, because it's the only way I can explain the shuddering of my heart whenever I hear of a new project by Rosario Dawson.
But at least this time it's my job to get excited (unlike my enthusiasm for the execrable Clerks II): Rosario Dawson's newest announced project is an online sci-fi animation called The Gemini Division.
The Gemini Division stars Dawson as a New Yourk detective who is investigating the bizarre murder of her husband and who uncovers a global conspiracy involving the creation of simulated life forms that have assimilated with the unsuspecting public.
Plans for the project are lofty: in partnership with Stan Rogow, Brent Friedman and Jeff Sagansky, Dawson will produce and star in the combination live-action and motion-capture online SF series. She's on board for 100 3 minute online shorts and is also attached to star and produce a potential TV series, a feature film and game versions of the franchise.
I love Dawson: she's just my kind of beautiful geek. I'll keep my fingers crossed that this all comes together.
Dawson Takes Gemini Online [SciFi Wire]
Read More