Rocketeer Rocketpack Replica On Sale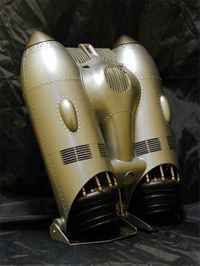 Although not what I'd consider a great film, The Rocketeer — better than any other Hollywood rendition — really nailed the mystique of the jetpack. A bronze belly belching fire and flame, turning even the most dopey-eyed farmboy into a Nazi hunter aboard Hindenburg-like zeppelins ethereally floating above the skies of 40's Hollywood.
When I succumb to the retro-futurists rally cry of "Where's my jetpack?" I always think about The Rocketeer. I would kill for my own jetpack. Luckily, I don't have to: Monsters in Motion is offering a beautiful replica of the Rocketeer rocketpack.
For a brief moment when I first clicked on the link, I imagined myself soaring, Iccarus-like, through the stratosphere, my butt blazing as if giving birth to counter-gravitational flatulence. I imagined my glass fist smashing at 90 miles per hour into a no-good Nazis jaw.
But then I looked at the price: $949.00? Jeez, I would have to kill to afford that on my salary. Adding insult to injurt, the Rocketpack replica doesn't seem to work no matter how much gasoline and firecrackers you stuff into it. Making this firmly the purchase of the plutocrat sci-fi collector and not average, wanna-be, Nazi-fighting joes like me.
Rocketeer Rocketpack Prop Replica Model Hobby Kit [Monsters In Motion]
Read More